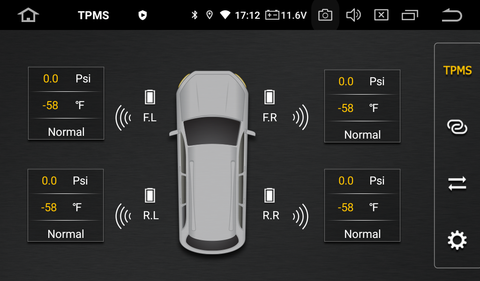 Features:

1. Monitors and displays pressure and temperature of tires 
in real time.
2.Monitors voltage of sensor batteries.
3.Promptly activates audible and visual alarms: low pressure,
high pressure, high temperature,rapid leak,sensor battery low
and no signal from sensor.
4.Displays pressure in kPa,bar,psi
5.Displays temperature in ℃
6.Allows setting thresholds for low pressure and high pressure
alarms.
7.Supports sensor pairing and sensor position swap procedure
to facilitate tire rotation.

Working environment
Receiver
Working temperature:-20℃~+70℃
Storage temperature:-20℃~+80℃
Working voltage:+12V

TPMS sensor:
Working temperature:-400℃~+125℃(internal sensor)/-20℃~+85℃(external sensor)
Storage temperature:-400℃~+125℃(internal sensor)/-20℃~+105℃(external sensor)